How to choose this product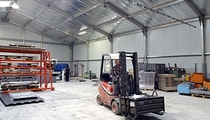 The modular building is constructed using standardized, prefabricated elements. These factory pieces are transported and erected on-site. Compared to traditional techniques, modular construction is quicker and less expensive. A modular building can be disassembled, moved, made larger, etc. It may even be leased.
Applications
Modular buildings are particularly useful as temporary storage or work space. Recent improvements in design, security and comfort make them an economical alternative to traditional construction.

Modular bungalows are used on construction sites as offices, bathrooms, locker rooms, tool sheds, etc. They provide extra office space and meeting rooms in the tertiary sector. Municipal uses include school classrooms, public services and low-cost housing. In industry, they can be employed to respond rapidly to needs for storage or workshop space. They are used as bathrooms and locker rooms, offices and shelters for special events.
Advantages
- Rapid installation
- Economical
- Movable
- Purchase or lease options