How to choose this product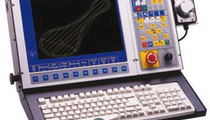 A numerical control, or CNC controller, is a machine and process control device. Models vary from simple, linear control to those using very complex algorithms to control several axes. Advanced programs permit the simultaneous control of about 10 axes. Some controllers include an adaptation kit for transforming a manual machine into a CNC machine. Common to all these kits are computer programs, cables, one or more signal generators, controllers and motors.
Applications
CNC controllers are used in numerous different machines. Examples include all sorts of machine tools: milling machines and machining centers, lathes, grinders, electrical discharge machining (EDM) equipment, industrial crushers, automatic welding machines and inspection equipment. They can also be retrofit to old machines, improving their performance.
Technologies
Numerical controls usually consist of movement controllers, a programmer and an operator/machine interface with a screen. They can be integrated into a machine, occupy a separate control station or be centralized in an industrial computer.
How to choose
Choice will depend primarily on the type of machine to be controlled, since the number of axes and spindles is very important.