How to choose this product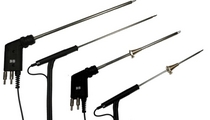 A probe is an intrusive measurement device, as its name suggests. It can be permanently installed or put in place periodically.
Applications
Probes are found in every branch of industry and research for the measurement and control of different parameters. They can be simple sensors or measurement transmitters.
Technologies
Temperature probes are permanently installed in water, air or gas conduits for process control. They can be linked to a measuring device or act as a transmitter. Some surface temperature probes are put in place when needed, along with suitable measuring instruments. Humidity and pressure probes are used to regulate HVAC installations, along with temperature probes.

Oscilloscope probes are used for the display of temporal voltage variations. Current probes take the form of a clamp ammeter or similar device placed around an electrical conductor. Explosion-proof gas sampling probes are found in petrochemical plants, while pH probes are used in chemistry. Probes are classified by precision and protection index.
How to choose
Choice will depend on measurement range, precision, response speed to variations, bulk and protection index.