How to choose this product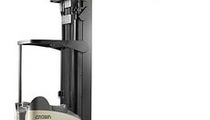 Reach trucks are are battery-powered electric vehicles used in warehousing and storage to insert, retrieve and transport pallets to and from their storage racks. They have a mast and forks in front for pallet handling. The option of telescopic forks allows access to deep shelving.
Applications
The different sizes include models suitable for use in narrow aisles.
Technologies
The basic reach truck has front forks mounted on a hydraulically operated mast to place pallets on a standard, one-pallet storage rack. There are also trucks with telescopic forks, which allow placement of pallets on a two-deep storage rack without having to push the front pallet. Operator configurations include sit-on, stand-on or pedestrian. The controls are located on the control panel or tiller arm, depending on the configuration.
How to choose
The trucks are selected depending on three principal factors: maximum load, height and depth of storage racks.