How to choose this product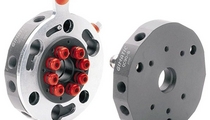 Robot tool changers are installed on industrial robots to change grippers, manipulators and tools so that one robot can perform multiple tasks. They provide a standard connection interface between the tool and the robot arm.
Applications
Robot tool changers enable a mchine to perform multiple tasks, such as welding, painting, pick-and-place, palletizing and measuring. They can be found in any industrial application that requires an articulated robot.
Technologies
Robot tool changers are composed of two parts which join the robot arm and tool together. The secure connection allows for electricity, pressurized air and fluids to pass from the robot to the tool. Robot tool changers come in different sizes and styles in order to handle either light- or heavy-duty tools.
How to choose
When selecting a robot tool changer, be sure to determine the working load and the amount of connections (electrical, hydraulic, pneumatic) required for your application.