Servo-amplifiers
How to choose this product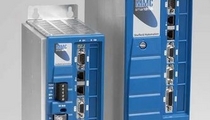 A servo amplifier controls a servomotor's speed, torque or radial position. The amplifier-motor combination constitutes a closed-loop control system subject to a command signal.
Applications
Servomotors are found in industrial automation and mechatronics. The slave elements can be a multi-shaft robotic system, a piezoelectric motor or an optional rate valve.
Technologies
Most such devices control brushless DC motors, though some are used with three-phase brushless AC motors. They have a command input and are capable of multi-quadrant control. Digital outputs indicate system state, such as motor position. Generally, there are alarms, protection features, galvanic isolation and the possibility of serial link communication. Sometimes integrated circuits play the role of servo amplifier.
How to choose
Choice will depend on motor type and required performance specifications. The two most important factors are effective and peak current of the motor. Precision should be considered in positioning applications.
Advantages
- Precision and reactivity
141 companies | 439 industrial products
1 products Apex Precision Product
Filter by :
› New products

(20)

› Products with video

(23)
Refine the search
Servo-amplifiers
Extend the search
Search by manufacturer
Search by catalog
Associated Terms
industrial servo-amplifiers