How to choose this product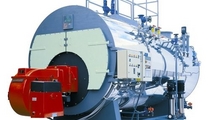 Steam boilers are heating units that generate water vapor.
Applications
These devices are used in industry to generate electricity and heat, or in systems requiring the use of steam (turbines, heat exchangers, etc.). They are found in hospitals, laundries, commercial kitchens and similar facilities.
Technologies
Steam boilers can be powered by any standard energy source: gas, fuel oil, coal, electricity or even a combination of energy sources. They are capable of superheating water. The most important component is the heat exchanger. There are two types: shell boilers and water tube boilers.

Shell boilers contain tubes carrying hot smoke. They can heat large quantities of water, but generate relatively low steam pressure and flow.

In water tube boilers, the water flows through the heated area. Such systems are quite safe and do not require large quantities of water within the boiler. They generate relatively high pressures and flows.
How to choose
Consider the boiler's power, energy source, operating conditions (downstream fluid temperature and pressure), and maintenance requirements.