Turbine flow meters
56 companies | 184 products
How to choose this product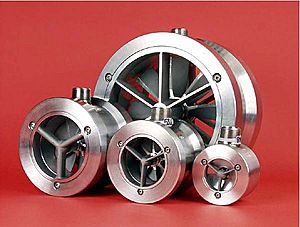 A turbine flow meter measures volumetric fluid flow in a closed pipe.
Applications
These sturdy, reliable, precise devices are used to measure the volumetric flow rate of gases and clean, low-viscosity liquids. They are found throughout industry, but especially in the food and chemical sectors.
Technologies
The turbine blades turn as the fluid passes over them. A sensor reads the rotational speed, which is proportional to that of the fluid flow. The sensor generates an AC output signal.
How to choose
Choice will depend on pipe diameter, the fluid to be measured and the operating environment.