{{#pushedProductsPlacement4.length}} {{#each pushedProductsPlacement4}}

{{product.productLabel}}
{{product.model}}
{{#each product.specData:i}} {{name}}: {{value}} {{#i!=(product.specData.length-1)}}
{{/end}} {{/each}}
{{{product.idpText}}}
{{#if company.requestButtonsVisibility.requestButtonQuestion == "ACTIVE"}}
{{elseif company.requestButtonsVisibility.requestButtonWhereToBuy == "ACTIVE"}}
{{/if}}
{{#if product.innovationType}} {{else}} {{#if product.newProduct}} {{/if}} {{/if}} {{#if product.hasVideo}} {{/if}}
{{/each}} {{/pushedProductsPlacement4.length}}
{{#pushedProductsPlacement5.length}} {{#each pushedProductsPlacement5}}

{{product.productLabel}}
{{product.model}}
{{#each product.specData:i}} {{name}}: {{value}} {{#i!=(product.specData.length-1)}}
{{/end}} {{/each}}
{{{product.idpText}}}
{{#if company.requestButtonsVisibility.requestButtonQuestion == "ACTIVE"}}
{{elseif company.requestButtonsVisibility.requestButtonWhereToBuy == "ACTIVE"}}
{{/if}}
{{#if product.innovationType}} {{else}} {{#if product.newProduct}} {{/if}} {{/if}} {{#if product.hasVideo}} {{/if}}
{{/each}} {{/pushedProductsPlacement5.length}}

shuttle storage system
UPC
The Under Pallet Carrier (UPC) from Jungheinrich is a compact storage system that offers collision-free pallet storage and retrieval. Optimum utilization of space is achieved due to low utilization of height per channel level. It offers ...
See the other products
JUNGHEINRICH

The single bay racking is capable of carrying one load unit per bay between two uprights on each level. One depth direction arranged angle profiles take on the shelf function. The emission of beams provides additional space.
See the other products
JUNGHEINRICH

pallet shelving
MPB / MPE
The multi-bay racking system uses several pallets stored on each level between two racking uprights and represents the most commonly used racking system on the market. They can reach heights of up to 40 m with automated operation, or ...
See the other products
JUNGHEINRICH

pallet shelving
MPB / MPE
This product is a major alternative to multi-racking systems this is called the Narrow aisle racking systems. This product offer all the performance features of a multi-bay racking at the heights of above 10 m and are freestanding in ...
See the other products
JUNGHEINRICH

These silos consist of floor to ceiling rack constructions that have a fixed roof and walls. They are completely automated, and are quickly and easily constructed, which offers increased space and reduced expense. The units are as tall as 40m.
See the other products
JUNGHEINRICH

pallet automatic storage system
ASMP series
Developed by Amada, the ASMP Automatic Storage System is designed with a compact, upright skeletal construction. This design module allows the system to be easily installed, with up to five raw material levels, 4 components, and a skeletal ...

automatic storage system
ASLUL series
The Amada ASLUL allows the vertical use of space, producing floor space savings and superior material management logistics. This fully automated material loading/unloading system uses vertical factory space to improve material logistics ...

automatic storage system
D 3850
This hopper is belt driven and is designed to automatically refill feeding systems. They are the best alternative to feeding systems and eradicate production stoppages. It extends refill intervals with the help of a fill sensor, which ...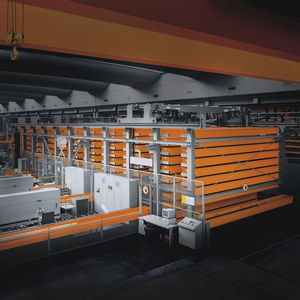 overhead crane storage system
UNITOP
UNITOP is a high rise automatic storage system that offers safe stockholding and excellent space efficiency. One of the notable features of UNITOP is that the operating crane is able to hover above the shelf block. This storage system ...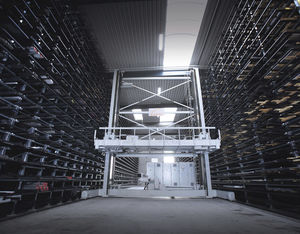 automatic storage system with stacker crane
UNIGRIP
The Honeycomb Storage System UNIGRIP provides an efficient and low cost solution for sorting bar stock for systems. This product is ideally suited for height of 4 to 15 m along with the maximum load capacity of 3 tonnes per cassette. ...

automatic storage system with stacker crane
UNICOMPACT
The close dimensions of the operating gantry crane ensure that as much space as possible is used for material storage. Utilizing the principle "Material to Operator", the UNICOMPACT bar storage system delivers the requested material ...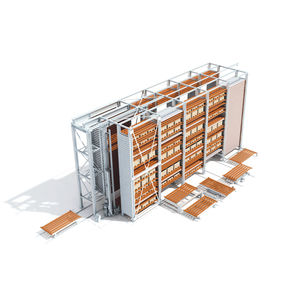 automatic storage system with stacker crane
UNILINE
This storage system can be installed as a stand-alone unit within existing buildings. Upon request, the steel structure can be designed as a rack-supported silo construction with wall and roof enclosure. The UNILINE offers different ...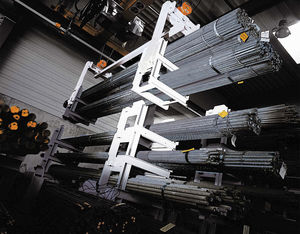 stacking cradle system for bar stock and sheet metal
UNIBLOC
For the conventional restacking operation with UNIBLOC, only two-hoist, possibly swayfree cranes are needed. The best suited material lengths for the Stacking Cradle System UNIBLOC are between 3 and 24 m (9.8' and 78.7'). Up to three ...

pick-to-light order-picking system
PVL
Banner PVL parts verification array is used for displaying pick and mis-pick indication. It features two colored, job LED arrows which either confirm a right pick or indicate a mis-pick. The dependable arrays provide the most economical ...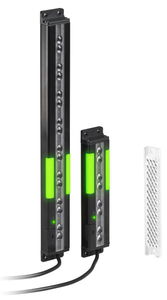 pick-to-light order-picking system
PVD
The PVD Pick-to-Lights Sensor is a light indicator which automatically works in their retroflective or diffuse state. It also has an automated set-up and adjustment features. It is equipped with a broad beam pattern which rationalizes ...

AS/RS storage system
ASRS
This automated buffer gives an ergonomic and effective system used for product buffering. This rack is usually used as a production buffer and in sorting and testing applications. It has an automated storage and retrieval system, ...

small part storage system
Dematic RapidStore® ML Miniloads
Miniload ASRS (Automated Storage and Retrieval Systems) for totes, trays and cartons The RapidStore ML systems are optimised for distribution centres, production and buffer warehouses. It is a innovative new type of flexible load handling ...
See the other products
DEMATIC

cardboard box automatic storage system
Dematic Multishuttle® 2
The Dematic Multishuttle® 2 is the next-generation "shuttle" AS/RS system for automated storage and retrieval of small parts, cartons or other stored goods, including the handling of containers, trays or individual bundles. Designed ...
See the other products
DEMATIC

Automated Storage and Retrieval Systems - Buffering - Racking & Shelving Cost effective turnkey systems Dematic integrates high quality storage racks and industrial shelving into turnkey systems often complete with automated handling ...
See the other products
DEMATIC

order-picking system
Dematic RapidPick System
Dematics order-picking systems Its all about presenting items to the picker in the desired sequence, enabling faster picking speed in a comfortable configuration: thats smarter, faster, ergonomic order fulfillment. Smarter: The operator ...
See the other products
DEMATIC

putwall order-picking system
Dematic PutWall
The Dematic Rapid Putwall Solution Three Variations The first example of a Rapid Put configuration includes batch picking as the first step in the process. This allows the order fulfilment operation to efficiently pick all the items ...
See the other products
DEMATIC

LIFO application (Last-In First-Out) Multi-purpose push Plate: Pallet guides Up to 6 pallets deep Crossway pallet storage (wider facing) Nested U cart

Uses: first-in-first-out and last-in-first-out picking uses with features physical and mechanical loading technique and dissimilar kinds of accessible guides.

The Carton Versi Flow unit is ideal for applications where the widths of the tote or carton are different. If there is incompatibility with the container bottom, this product offers an alternative solution to the use of wheel tracks. ...

vertical automatic storage system
Towermat series
Stock with extreme dimensions and heavy goods require particularly well-thoughtout storage logistics. Previously, unprofitable use of space for the storage of long goods, metal sheets, tools, pallets or mesh cages cause extremely complex ...
See the other products
Kardex Remstar

recovered materials automatic storage system
Thanks to the introduction of an automated storage and retrieval system with Horizontal Carousel storage facilities from Kardex Remstar, French jewelry retailer Maty has been able to boost its order fulfillment at its logistics center ...
See the other products
Kardex Remstar

recovered materials automatic storage system
Automated storage and retrieval systems now support MRO activities in a small, compact footprint. Keeping these supplies on hand can reduce downtime in highly automated facilities. Facilities throughout the supply chain are increasingly ...
See the other products
Kardex Remstar

Kardex Remstar has added new options to ensuring safe, space-saving storage and management of tools, increasing productivity and efficiencies. Kardex Remstar has developed its portfolio for optimized storage and management of tools. ...
See the other products
Kardex Remstar

high-speed storage system
Continuing on their journey to provide innovative storage and order picking solutions and applications, Kardex Remstar will display their full line of smart solutions at Promat 2015 in Chicago, IL March 23 - 26, 2015 in Kardex Remstar ...
See the other products
Kardex Remstar

digital order-picking system
LSV
In a commission warehouse the different customer orders get arranged and transported to the dispatch department. Such a warehouse should be laid-out in a way that productivity can be achieved with inexpensive means of production. The ...
See the other products
OHRA Regalanlagen

Ohra presents cantilever racks. The racks are suitable for storing long goods and heavy parts. They are suited for forklift truck and crane handling.The storage system of this type allows horizontal insertion or arms into vertical columns. ...
See the other products
OHRA Regalanlagen

These light cantilever racks from Ohra are designed for handling with forklift trucks or cranes. Their arm lengths ranges from 400 mm up to 1200 mm. Their standard height stands at 9 m. They also come with numerous accessories that are ...
See the other products
OHRA Regalanlagen

This Roofed Cantilever Rack is a storage for outdoor use. The design is completely planned starting from the foundation up to the drainage system. It can store products without weather specifications with its space saving design. Accessories ...
See the other products
OHRA Regalanlagen

The Cantilever Racks, manufactured by Ohra®, provides continuous storage to enhance the desired space with a single storage level, suited for long material in various sizes without any connecting columns that is very distracting. Furthermore, ...
See the other products
OHRA Regalanlagen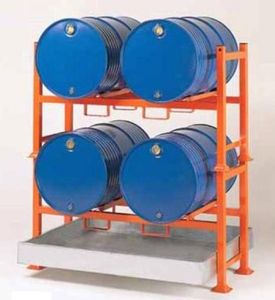 self-supporting shelving
SPF 362
The Steel and Polyethylene Spill Pallet by Sall is highly designed to provide an excellent quality functionality and output for very specific purposes. The pallet is built with a spill sump mainly built to store drums consisting of 200 ...
See the other products
SALL Srl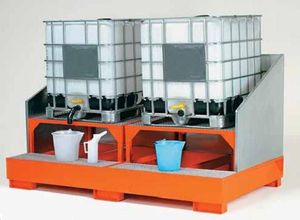 hazardous material shelf
ECO 321
Steel sumps for storing IBCs can be customized using a special raised tilted shelf. This helps in improving both transfer and closing operations. It is also able to ensure that the tank is completely emptied. Its ECO 320 - ECO 321 versions ...
See the other products
SALL Srl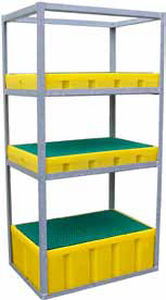 pallet shelving
SCA 200P, 2100P
The SCA/200P/2100P Shelves are designed for drums with retention tank. They are suitable for laboratories and has a diameter of 1,010 x 670 x 2,000 mm. The frame is made of galvanized steel, while the pallets are made of polyethylene. ...
See the other products
SALL Srl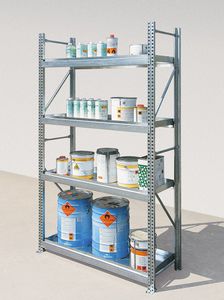 light-duty shelving
SCA 140, 160
The SCA 140/160 from Sall are shelves designed to accommodate small containers in order to adhere to safety levels in conformity with regulations. These shelves can be extended with additional elements. The storage surfaces for ...
See the other products
SALL Srl

self-supporting shelving
ECO 2xx 6V
These racks from Sall are engineered with sumps, and are capable of storing 200 L drums and 60 L bins. They are ideally used for storing harmful or combustible substances. Due to the range of accessories and modules, these units may ...
See the other products
SALL Srl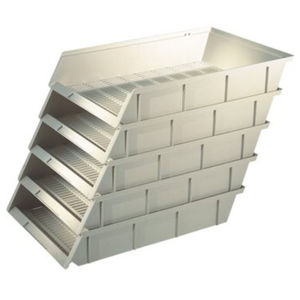 The MARTINI ALFREDO's stacking document holders of the Mercurio series feature dimensions of 380 x 265 x 70 mm, are stacked one on another with a slight angle, offering visibility. By standard, they are available in white color. Also, ...

file holder
PERICLE series
The Pericle series by Martini Alfredo is a file holder designed for documents that has a size of A4 and B4. Using this binder it takes up only a minimum of space. Also, it features its design to be visibly sleek. For its dimension, it ...

Lean Indeva is a modular system for lean manufacturing. They build flow racks, gravity conveyor, work places and agv trolley. The devices made by Lean Indeva are especially designed to adapt to new applications. The components are made ...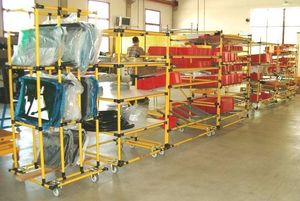 The LISTA drawer wall offers ideal storage solutions for the modern work space. It combines the benefits of a drawer cabinet with adjustable shelving units, allowing you to create various installations. Modulations are also easy to match ...
See the other products
LISTA

The LISTA NC tool holders are a perfect tool organizing product, offering storage and sorting of different NC tools, that are often required for various systems with electronically controlled machines. They are portable, offer protection, ...
See the other products
LISTA

These shelf storage walls from Lista are suitable for use in various industries and workplaces that requires a visually appealing design while providing an efficient use of space and easy handling. These shelves offer flexibility design ...
See the other products
LISTA

The Sliding Shelf Units are manufactured by Lista, and offers double the storage space that are pushed together and opened only where something requires to be taken out. There are individual components that are roll smoothly on rails. ...
See the other products
LISTA

The LISTA shelving systems feature widths of 1,000 or 1,300 mm, and are a perfect choice for every kind of storage applications, ranging from materials, boxes and crates, to smaller devices, hoses, etc. They can be used as simple units, ...
See the other products
LISTA

shelving
max. 1 830 x 533 x 1 590 mm | SR series
The SR Series, manufactured by Kombix® is a shelf rack, suited to meet every people necessity. Its shelf height is up to 25mm that can be adjusted along with a maximum dimension of 1830mm x 533mm x 1590mm. Plus, it comes with a wide ...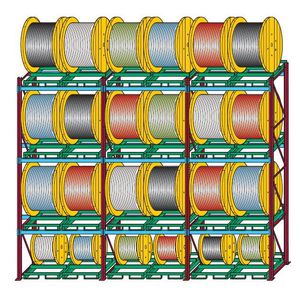 The Nicoletti RS85 Palletized Drum Rack, generally suitable for the storage of static drums, is capable of carrying a load weighing up to 2000 kg on each level. Furthermore, this drum rack is modular given any kind of requirement. For ...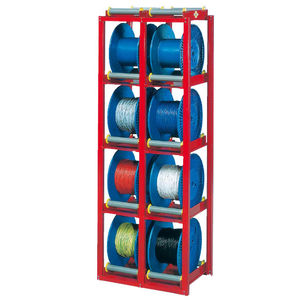 The BF series is manufactured by Meccanica Nicoletti and is a modular shelving. It is constructed in steel painted plate. This series is assembled using screws. It has dereeling on nylon roller, which can store up to five levels. It ...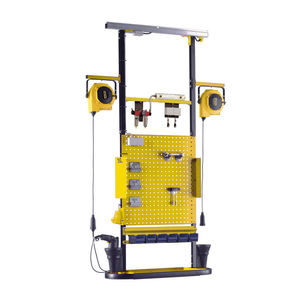 Tool transporters are complete pre-assembled units that allow the use of multiple different tools, among other things. They can also be fitted with tool holders, perforated sheets, storage tubs for keeping small parts in storage containers, etc..


However, each automatic drum filling process, e.g. by means of a Feige drum filler also faces you with a logistic challenge. What to do with all the drums? Regardless whether you want to streamline manual offloading, optimise your ...

This system may be used for providing direct and single access to each of the pallets. It is most suitable for warehouses where there is a large number of SKU and palletised products. The type of forklift truck or lifting device will ...
See the other products
MECALUX

shelving / drive-in pallet
The Drive-in Pallet Racking uses the storage by collection principle and allows the maximum usage of accessible area with regards to the area and height, It is engineered for the storage of similar products and covers a high amount of ...
See the other products
MECALUX

The Movirack system ensures complete space and storage management. The shelving units are made compact and easily accessible without giving up direct and easy access to any of the stocked items. Shelving units installed in laterally ...
See the other products
MECALUX

It is an excellent system for the warehouses of perishable goods. It can also be used in distribution businesses or any other industry. They consist of the roller track sections that are placed on sloped lane to facilitate the sliding ...
See the other products
MECALUX

The Push-Back Flow Rack features a LIFO system that saves space and provides high storage density. Each level can store several reference points, while loading and unloading is done utilizing the same aisle. This apparatus is suitable ...
See the other products
MECALUX

storage system
max. 5 000 kg
This automatic storage and retrieval system is specially designed for heavy loads. It is capable of working with loads to a maximum weight of 5000 kg. This device handles special load devices and provides strokes of up to 30 000 mm. ...