How to choose this product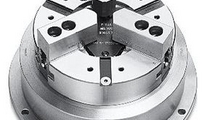 Chucks are used to clamp either workpieces or tools in place for rotary operations. The two most common types are the drill chuck, used to hold drill bits, and the lathe chuck, used to hold workpieces for turning operations.
Applications
Chucks are most often found in metalworking and woodworking applications to hold cutting tools such as drill bits, reamers and end-mills. Three-jaw and collet chucks are used to hold workpieces.
Technologies
In general, a chuck is designed with a certain number of jaws that grip the workpiece or tool. The jaws can either be self-centering or independently adjusted. Some chucks use a key to tighten or loosen the jaws, while others are hand-operated or even pneumatically operated.
How to choose
When selecting a chuck, be sure to determine technical specifications such as the diameter, rotational speed, clamping force and type of machinery on which it will be mounted.