How to choose this product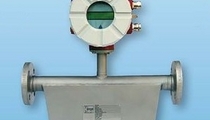 A Coriolis flow meter uses the Coriolis effect to measure mass flow. The most common type of mass flow meter, it can simultaneously measure mass flow, volume flow, viscosity and density in pipes without the need for additional instrumentation. This makes it an extremely valuable tool.
Applications
Coriolis flow meters provide mass flow, density and viscosity measurements, making them ideal for applications where these values are important or where they are liable to vary. They are more suitable for liquid flow than for gas flow measurements, although they can be used for some such applications. They are able to handle almost any liquid of any viscosity.
Technologies
In a Coriolis flow meter, the fluid passes through a curved pipe, which is made to vibrate. The inertia of the fluid causes a phase shift in the vibrations at the inlet and the outlet, enabling direct measurement of the flow. Since vibration frequency varies directly with fluid density, measuring the frequency yields the fluid's density. Thus, the meter directly measures mass flow.
How to choose
A Coriolis flow meter can be a good option when the fluid to be measured will vary in temperature, density and/or viscosity. An important factor to take into consideration is the pipe diameter of the installation. Required precision should be determined to select from among the various models on the market.
Advantages
- High accuracy with many fluids
- Temperature/pressure independence
- Measures very hot and very cold fluids
- Bi-directional flow possible
Disadvantages
- Cost
- Size
- Limited pipe diameters available
- Difficult to clean in case of clogging