How to choose this product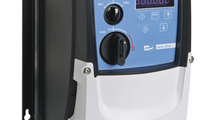 A frequency converter is an electronic variable speed control for synchronous or asynchronous motors. It runs on grid current. Discrete control of voltage and phase frequency enables it to govern motor speed and torque.
Applications
These devices are used to control motors, particularly asynchronous, in propulsion applications, machine tools and for ventilation and pump operations.
Technologies
The converter's first stage changes single- or three-phase grid AC to direct current. The second stage is a DC/AC converter, controlling motor phases by pulse-width modulation via IGBT transistors or thyristor switches. The inductive nature of the motor windings renders these pulses as sinusoids whose amplitude and frequency are controlled. The frequency conversion enables the motor to be controlled by vector flux and PID regulation. This makes multi-quadrant operation possible, especially braking by re-injecting energy into the network.
How to choose
Choice will depend on output power, as well as the voltage and frequency parameters of the generated phases.
Advantages
- Lower energy consumption
- Protection of machinery and the grid