How to choose this product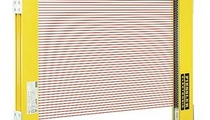 Light curtains use a non-visible screen of infrared light to protect personnel from injury and machines from damage by monitoring the perimeters of operational and restricted access zones. The interruption of a single light beam activates the emergency shutoff of a machine in operation.
Applications
Light curtains are installed on potentially dangerous machines, robots and other automated systems where it is possible to access a dangerous area. They are found on automated machines, such as large hydraulic presses and welding robots where personnel could contact the machine's moving parts. Light curtains are also used to protect personnel from accessing dangerous electrical circuitry on assembly lines.
Technologies
Light curtains comprise an emitter and a receiver. The former emits the infrared light beams. The receiver consists of a certain number of photoelectric sensors corresponding to the beams. When an object interrupts one of these light beams, a signal is sent to stop the machine.
Light curtains are usually equipped with safety relays which control parameters such as signal strength for long range or short range detection.
How to choose
Optimal operation requires a light curtain providing the appropriate level of protection and range of functions. There are two types of curtain: Type 2 and Type 4. Type 2 costs less, but has fewer features. Type 4 offers higher resolution and scanning range.