How to choose this product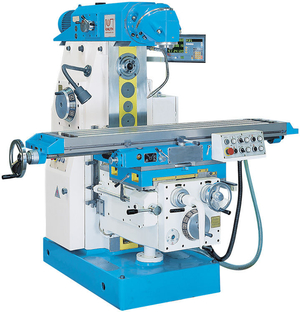 A milling machine uses a rotary milling cutter to remove material from parts being machined.
Applications
These devices are used in metal parts manufacturing.
Technologies
Milling cutters can be conical, torus-shaped or cylindrical, and are generally made of tungsten carbide. They are attached to the axis spindle via a drill sleeve, a mandrel or a special cone-shaped device. A tool-changing system can place tools such as taps, drill bits and reamers on the spindle.

The milling cutter and the part move relative to one another along X, Y and Z axes, the last being that of the spindle, which determines the depth of penetration. The two remaining axes define the plane of the workpiece's movement. The part or the spindle tilt along additional A, B and C axes. Rotation speed can be adjusted to suit the type of material being machined.

Some milling machines can repeat the movements executed by an operator. Digitally-controlled milling machines are piloted via ISO language generated by CAD/CAM software.
How to choose
Choose the required number of axes. Horizontal milling machines offer the advantage of removing shavings, as well as allowing gravity lubrication. Vertical milling machines allow flat machining. Universal models can operate in any orientation.