How to choose this product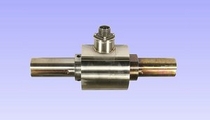 Reaction torque sensors, also known as static torque sensors, measure the torque applied to an object that is not in rotation. The reaction torque is the rotational force applied to an object such as a bolt or stationary drive shaft.
Applications
Reaction torque sensors are used in electronic torque wrenches to control the torque applied when tightening bolts. They also can be used in different product test applications. Drive shafts can be tested during manufacturing to verify their ability to withstand maximum and minimum torque levels.
Technologies
Reaction torque sensors are most commonly made of steel with varying shaft configurations. Most reaction torque sensors use strain gauges to measure the stress/strain induced on the sensor when an external torque is applied.
How to choose
Be sure to specify the maximum and minimum loads for the intended application when selecting a reaction torque sensor. Other parameters are the shaft type and its size.