How to choose this product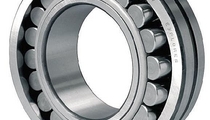 Roller bearings can withstand a much higher load than other types. They use either cylindrical rollers, which can withstand radial loads only, or tapered rollers, which are suitable for both radial and axial loads.
Applications
Such bearings are designed to withstand heavy loads. Thus, they are mostly used in heavy industries, rolling mills and trucks.
Technologies
These bearings are composed of coaxial inner and outer races separated by one or several rows of rollers. Three main types of roller exist: cylindrical, tapered and barrel-shaped rollers.
Advantages
- High load capacity
Disadvantages
- Limited rotation velocity