How to choose this product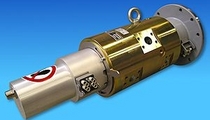 Rotary unions are autonomous, self-supporting couplings that allow leak-less fluid transfer (steam, water, air, oil) to a rotating machine's extremities. They can have several channels and ports, enabling them to convey several fluids simultaneously.
Applications
Hydraulic applications for rotary unions are numerous: offshore operations, aeronautics, construction, automobile and other industries.
Technologies
The two collars of the device, one of stainless steel, the other of graphite, are in contact with one another. Each has a polished surface.
How to choose
Several parameters must be considered when choosing a rotary union:
- Rotation velocity
- Number of circuits and their diameters
- Fluid nature, temperature and pressure
Advantages
- Fluid passage
- Watertightness
- No maintenance