How to choose this product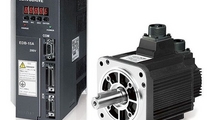 A servomotor is a rotary actuator which provides precision angular positioning through a master controller. It includes a position sensor and a controller. The latter may be integrated onto the motor or come as a remote unit (e.g. serial link).
Applications
These devices are found in mechatronics, machine tools and robotics and can operate butterfly and other types of valves.
Technologies
Most such motors are electric. There is a wide range of motor and position sensor types. Position is usually measured by an encoder. Encoder-resolvers with pulsed sinusoidal output are very precise and responsive. Another option is the use of Hall-effect sensors.

Robotics often use DC motors, compact and capable of superior performance. Permanent-magnet synchronous AC motors are used for rapid, precise motion, whereas asynchronous motors are more common in heavy industry and automated systems, especially for the control of electric valves.

Some models have an electromechanical brake for position stability.
How to choose
Choice will depend on responsiveness, precision, torque and features related to the operational environment, such as the degree of protection.