How to choose this product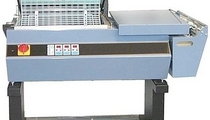 Shrink wrapping machines are used to seal products in a tight, protective wrapper. The products are enveloped in plastic film and heat is applied to shrink it. The process can be adapted to a range of sizes and shapes. These machines can be manual, automatic or semi-automatic, and are used in a variety of industrial settings.
Applications
These machines are used to wrap a wide variety of products, from very small to very large, including food items and palletized goods.
Technologies
These machines are available in chamber, tunnel and heat blower configurations.
How to choose
Choice of machine will depend on specific application and required wrapping speed.