How to choose this product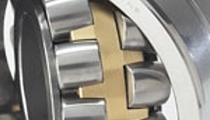 Spherical bearings have more tolerance to axial misalignment than other bearings. Depending on the required load capacity, the rolling elements will be composed of two rows of balls or rollers.
Applications
Used primarily to guide long drive shafts, this type of bearing can be found in the transmission shafts of manufacturing machinery, conveyors, and many types of vehicle.
Technologies
These bearings have two rows of balls or rollers in a single concave raceway. The inner race is free to pivot around a central point in addition to its rotational movement. The outer race geometry and the disposition of the rolling elements allow them to self-align and to compensate for shaft misalignment.
Advantages
- Self-alignment