How to choose this product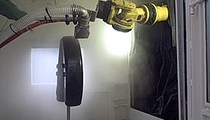 A spray washing machine uses jets of solvent to wash a product as it emerges from prior thermal treatment. It uses a conveyor system to introduce the material to be washed.
Applications
Spray washers are used for the surface treatment of machined products in a wide range of industries.
Technologies
A conveyor carries the products to be treated into a wash tunnel where jets of solvent are sprayed onto them.
How to choose
The spray washing machine economizes solvent. It is particularly useful for the treatment of large objects or products in place of immersion treatment.
Advantages
- Solvent economy
- Environmentally sound
- Removes all impurities