How to choose this product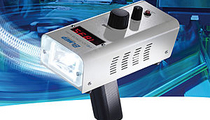 A stroboscope emits a powerful light flash at regular, set intervals. This creates the optical illusion of slowing or stopping motion too rapid to be detected by the human eye alone.
Applications
These instruments are used in laboratories to observe rapid, periodic phenomena, and in many settings for the maintenance and visual inspection of motors and other rotating machines.
Technologies
The traditional stroboscope uses an electronic flash lamp as a light source, though these are increasingly being replaced by LEDs. Flash frequency is controlled via an analog or digital interface. Bench models may use an integrated or a separate lamp. There are also portable models for field use.
How to choose
Choice will depend on power and range of frequencies, as well as on portability needs.