How to choose this product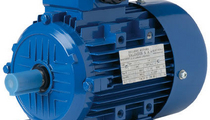 A three-phase motor is an AC motor with a stator featuring three coils and one or several poles. Asynchronous versions, also called induction motors, are very widely used.
Applications
Three-phase asynchronous motors are the most common type of industrial motor. They are used to convey loads, power ventilators, actuators, cranes, valves, machine tools and vehicles.
Technologies
These motors are cost-effective, robust and require little maintenance. Velocity is nearly constant over wide power ranges.

The stator's rotary magnetic field induces current within the rotor, which is driven more slowly than the field. This results in slippage and, therefore, torque. The rotor is generally squirrel-cage. Asynchronous motors dissipate heat, are self-ventilated, and feature a thermal protection system.

The motor features a connection terminal allowing either a star or a delta configuration, depending on available voltage. Information is displayed on a data plate. It also can be started in star mode before being switched to delta connection, or be controlled by a speed variator.

The rotors are powered by brushes via direct current or by permanent magnets. The motor is controlled by a frequency variator.
How to choose
Consider the rotor's design, the motor's torque, power and cooling system, coil isolation category, and the degree of protection.
Advantages
- Robust
- Requires little maintenance
- Inexpensive to buy
Disadvantages
- Heat dissipation