The Online Industrial Exhibition
liquid chiller
6.8 - 101.6 kW | MWE, BWE series
Glycol chillers for medium and low temperature applications, specially designed for outdoor installation with minimum noise levels under extreme ambient conditions. MWE series: for refrigeration at positive temperature, ...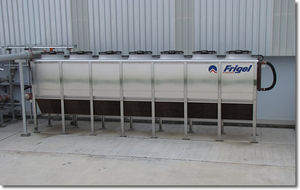 liquid cooler
5 - 35 °C | Ecodry 3DK
... , precise water temperature control Expand as you grow Frigels modular approach allows production facilities to install economical systems that can be easily expanded Improve environmental sustainability By saving extensive ...
See the other products
frigel firenze spa
water chiller
160 - 315 kW | Heavygel EFX
Offering maximum energy efficiency for your cooling needs, the EFX line of water-cooled Heavygel compact industrial chillers roughly half the size of competing units are ideal for use with the Ecodry closed-loop system. The ...
See the other products
frigel firenze spa
water chiller
285 - 947 kW | Heavygel HGL
... central chillers provide maximum cooling performance without the need for a condenser water source. These compact, precise industrial chillers are an increasingly popular, highly economical ...
See the other products
frigel firenze spa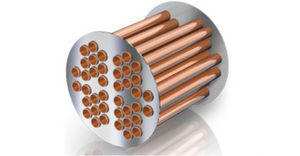 Our oil coolers are system components for the safe operation of screw compressors. For each application BITZER offers the right oil cooler air- or water-cooled, for HCFCs and chlorine-free HFCs as well ...
Steam jet cooling systems are based on proven jet pump technology and often used to cool a liquid directly without any additional refrigerant by means of flashing into the vacuum.
See the other products
Grasso International
liquid cooler
LKI, TFS/A series
HBE oil-/air coolers have been designed for a fast cooling in return lines of hydraulic systems. They are featuring an especially low-noise operation as well as a high cooling performance. The oil-/air coolers ...
See the other products
Suco VSE France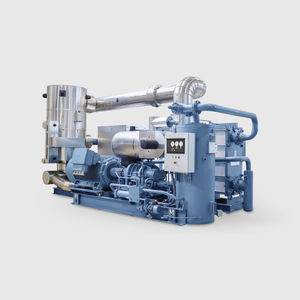 liquid chiller
Grasso FX , Galaxy™, BluA series
Power: 200 kW - 5,800 kW
Maximum temperature: -15 °C - 40 °C
... internal volume ratio (Vi) High-efficiency plate heat exchangers as evaporators and condensers Liquid cooled condenser by default, suitable for other condenser types Screw compressor chillers ...
See the other products
GEA Wiegand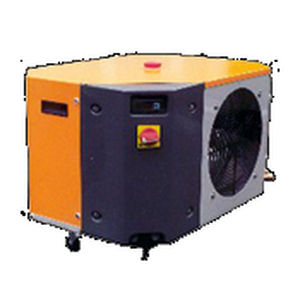 ... highly durable cooling device for modernized generation. It has efficient cooling characteristics that is made possible through water temperature regulation feature, which allows maximum outcome through time, and also ...
water cooler
YX-09KG series
... of two different types, the YX-09KGC1 and the YX-09KGB1. Key features include a single phase rated input of 200V with a water capacity of 9L. The unit makes use of a forced air cooling method and a cooling capacity of 200KJ.
... Inverter-controlled Centrifugal Chillers realize energy-saving operation through out the year utilizing variable motor speed control with inverter unit, drastically improving partial load efficiency under low cooling ...
See the other products
Hitachi-Johnson Controls Air Conditioning Inc.
liquid cooler
Innopas KI/IISC
Good to know Our Innopas KI/IISC tunnel cooler offers you reliable and gentle product and container recooling after hot filling of cans, glass, and PET containers with products such as juices, isotonic drinks, and ...
See the other products
Carrier Commercial Systems and Services
water chiller
HRS090 series
Power: 9,000, 10,500 W
Maximum temperature: 3 °C - 35 °C
Flow rate: 29 l/min - 68 l/min
... Capacity Compact Chiller, 200/400 VAC The HRS090 is a compact chiller with large cooling capacity. A 9.0kW air cooled or 10.5kW water cooled refrigeration circuit can be selected. The chiller ...
See the other products
SMC Corporation of America
... fuel coolers are designed for cooling fuel on marine engines. They have cupro nickel tubes like all Bowman heat exchangers which promotes long life expectancy. Modern engines designed to meet emissions regulations are ...
See the other products
Bowman
Power: 50 kW - 600 kW
Maximum temperature: 35 °C
Pressure: 3 bar - 9 bar
The AlfaBlue BO series includes the air-cooled, heavy-duty transformer oil coolers having a modular layout for cooling transformer oil. It has an innovative coil design that gives excellent heat transfer. Its frame ...
See the other products
Alfa Laval
Power: 10,000 W - 89,000 W
Flow rate: 1.8 m³/h - 13.2 m³/h
Pressure: 3.1, 3.2, 3 bar
... as a self-contained and independently operating chiller used to assist water coolers. Moreover, it is useful in overload situations.
Maximum temperature: -7 °C - 18 °C
Flow rate: 195 l/min - 1,230 l/min
Pressure: 6.4 psi - 9.5 psi
The Chiller Air (22-136) central chillers have dual refrigerant circuits with two compressors. It can function as single unit due to its modular microprocessor that coordinates with the chillers. The ...
See the other products
Conair
oil cooler
max. 140 l/min, max. 300 bar | Hydrapak series
Power: max 8.0 kW
Pressure: max 300.0 bar
Lightweight, compact Drum oil cooler, combining the reservoir, filter, control and safety equipment required in a hydraulic system within one assembly. Gardner Denver brand Hydraulic system formation, operation, ...
See the other products
GARDNER DENVER
... customized coolers. Customized Motor Solutions • KULI documentation • complété fan drive and air flow design • modular setup • high coTosion protection Customized to your fluid • water cooler ...
See the other products
ASA Hydraulik
... constant fumes temperature within the Fume Treatment Center (FTC). A highly efficient cooling tower which ensures: 100% water evaporation for an absence of corrosion An optimal pollutants capture due to constant ...
water chiller
Aquarius Plus 2 ME
Power: 345 kW - 1,379 kW
The Aquarius Plus 2 water cooled screw chillers are the best solution for commercial and industrial applications when requirements are reliability and performances. They are designed to meet market requirements ...
See the other products
MTA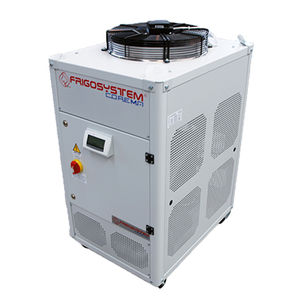 Power: 2 kW - 52 kW
Maximum temperature: 20 °C - 35 °C
... well ventilated rooms Air condensation with no water consumption Large surface heat exchanger with copper tubes and aluminium fins Low noise axial fan Dry expansion gas-oil evaporator ...
See the other products
Frigosystem S.r.l.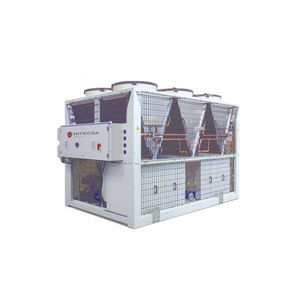 Power: 221.4 kW - 372 kW
Monobloc water chillers with air condensation and axial fans. Series with hermetic scroll compressors and refrigerant R410A. Class A. TECHNICAL DATA • Cooling capacities: 221.4 to 372 kW • Compressor: ...
See the other products
HIPLUS AIRE ACONDICIONADO S.L.
water chiller
Micro Aquaflow
Maximum temperature: 0 °C - 95 °C
Our Micro AquaFlow Water Chiller allows processors of all sizes access to the best water chilling technology available for their cook-chill applications. With a Micro Aquaflow, even ...
See the other products
Unitherm Food Systems BV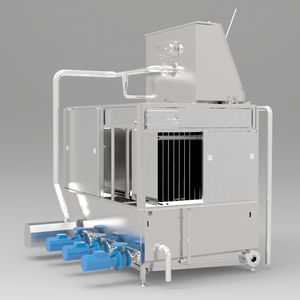 The Cabinplant water chiller is of the Baudelot (falling film) type. Water flows uniformly from a common overhead distribution trough over both sides of the vertical stainless steel plates. ...
Maximum temperature: -7 °C - 27 °C
The GP Series Packaged Chillers include all of the major chiller system components in one versatile and compact package with a leaving fluid temperature range of 20°F to 80°F (-6.7°C to 26,7°C). Available ...
See the other products
AEC, Inc. - ACS Group