How to choose this product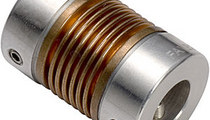 A bellows coupling is a flexible, no-twist coupling. It transmits torque between two imperfectly aligned shafts without torsion or loss of rotational speed.
Applications
Bellows couplings are used wherever torque must be transmitted between two imperfectly aligned shafts at constant velocity and without torsion.
Technologies
Bellows couplings are highly torsion-resistant while remaining flexible in other directions. The smallest models, generally with nickel bellows, are often used to link an encoder to a motor, compensating for angular divergence between the two. Those made of stainless steel can transmit significant torque.
How to choose
Choice will depend on:
- Torque and speed to be transmitted
- Shaft misalignment
- Load type: requiring torque fluctuation compensation (flexible elastic absorption) or perfectly synchronized (flexible, no-twist coupling)
- Size, available space, noise, disassembly
- Environment, temperature and other external factors