How to choose this product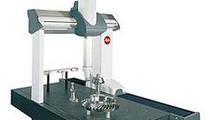 A coordinate measuring machine (CMM) are industrial devices that scan the surface of a part to determine its geometrical characteristics.
Applications
CMMs are used in production to inspect machined pieces before they go into mass production. They can perform on-line and off-line production inspections on assembly lines. CMMs are used to measure complicated parts that have strict dimensional tolerance requirements.
Technologies
Coordinate measuring machines operate along three axes (X, Y, Z) and can be either manual or use computer numerical control (CNC). Size varies with the workpiece being measured.
How to choose
When selecting a CMM, be sure to determine the size of the workpiece to be measured. Design tolerances will determine required CMM resolution, another important criterion.