How to choose this product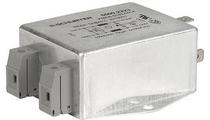 An EMI (electromagnetic interference) filter is a passive device designed to suppress power-line interference produced by a device, or to protect a piece of equipment from such interference. Both single- and three-phase protection is possible. Such a filter also can be found on RJ11 connections.
Applications
European EMC and American FCC regulations prescribe filters for electrical and electronic gear to ensure electromagnetic compatibility. These norms define filter parameters for communications, network and medical equipment, lighting and machinery. Standards differ between residential and industrial settings.
Technologies
Filters attenuate radio frequency and electromagnetic interference between the line and the equipment. These devices contain special capacitors and ferrite windings. They can operate in common or differential mode, or both at once. Filters are connected to the power line and are grounded, if in common mode. They also can include surge protection components.
How to choose
Choice will depend primarily on the type and power of the equipment in question. In common mode, leakage current must be considered.
Advantages
- Compatibility
- Electromagnetic protection