How to choose this product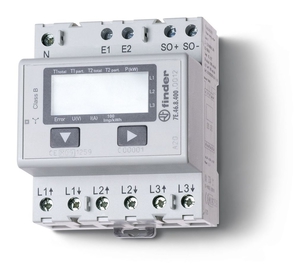 An energy meter measures the amount of electrical energy produced by a generator or consumed by an electrical load.
Applications
These devices are used to manage electrical production or consumption of generator sets, solar power systems and other electrical installations. Efficiency and loss analysis facilitate adjustments designed to reduce power factor-related dysfunction.
Technologies
Industry uses electronic meters, usually mounted on a DIN rail. Data is displayed on an LCD screen and there are controls for entering billing information. These devices furnish more data than an ordinary electric meter, including total energy in KWh, voltages, amperages, active, reactive and apparent power (P, Q, S) in kW or kVA. Other possibilities include, four-quadrant values, power factor frequency and rate of harmonic distortion (THD).

The meter is wired directly into an electrical panel or through a current transformer. In the latter case, a conversion factor is indicated on the meter. It includes memory to store accumulated data and may have pulse outputs. Most have RS232, RS485, Ethernet or profibus communication ports for energy management purposes.
How to choose
Choice will depend on required accuracy, the voltage and amperage of the system. Measurement precision is determined by the sampling rate.