How to choose this product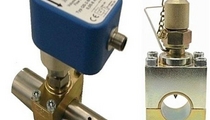 A flow sensor measures the volume or mass of a liquid or gaseous stream.
Applications
These devices are found in agribusiness, life sciences, the chemical, petroleum and gas industries, iron and steel manufacturing, metallurgy, the paper industry, heating and air conditioning and water treatment.
Technologies
Sensors can be internal or external and measure volume and/or mass.

- The thermal sensor uses resistance elements to heat the fluid. It calculates the flow from the difference between upstream and downstream temperatures of the fluid.
- A rotameter consists of a rotating float in a vertical conical tube. Its level varies directly with flow rate. Readings are taken visually or via an optically or magnetically generated signal.
- Turbine and propeller sensors measure volumetric flow.
- A differential pressure device measures the variance in fluid pressure on either side of a change in conduit diameter.
- The electromagnetic sensor uses Faraday's law, which states that an electromotive force is induced in a conductor moving in a magnetic field.
- The Coriolis mass flow meter measures mass, volume, temperature, density and viscosity of the gas or liquid.
- Other types include ultrasound, vortex and Pitot tube.