How to choose this product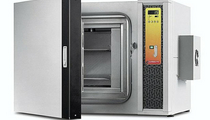 A laboratory oven is a heating chamber capable of controlled-temperature thermal treatments; it is often found in analytical and research laboratories. These ovens generally operate with air at atmospheric pressure, though some applications require a vacuum status or the use of an inert gas.

They are generally equipped with electric heating units, and can reach maximum temperatures of up to 300° C; ovens operating at higher temperatures are called furnaces. Air circulation within the chamber can is by natural or fan-driven convection, which ensures better heat transfer and temperature homogeneity.
Applications
Laboratory ovens are used in heating, drying, heated storage, hot-air sterilization, aging of components, hardening or thermal testing applications.
How to choose
Chamber volume, temperature capabilities and convection type are the main determinants of laboratory oven choice.