How to choose this product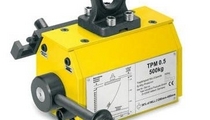 A permanent magnet is able to maintain a constant magnet field due to the characteristics of its constituent materials and the manufacturing process. In contrast to an electromagnet, it does not require connection to an electric power supply.
Applications
Permanent lifting magnets are used for handling flat or round steel pieces, for loading and unloading in warehouses and workshops, in metal fabrication and in shipyards. Permanent magnetic blocks hold workpieces on machine tools. Smaller versions actuate reed proximity sensors, hold movable parts in place and figure in door closure mechanisms.
Technologies
The materials used in the magnet depend on its configuration, required power and the intended use. AlNiCo magnets provide a powerful magnetic field and desirable mechanical characteristics. Neodymium models (NdFeB) are more powerful, but are susceptible to oxidation. Samarium (SmCo) versions are less subject to demagnetization. Those of strontium or barium ferrite offer the advantage of low cost.

Permanent lifting magnets can lift flat or cylindrical ferrous loads of up to several tons. Actuating a lever transfers the magnetic flow into the load for lifting, or redirects it to an internal mass to release the load. This mechanism is designed so that moving the lever requires little effort.