How to choose this product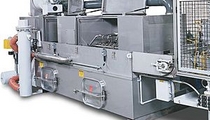 Washing machines are systems used to wash parts between or at the end of a series of chemical treatments. This is done by means a solvent, in some cases water.
Applications
These systems are found in the steel industry and for post-fabrication treatment of manufactured parts in a variety of settings, as well as in the food industry.
Technologies
Parts can be washed by immersion or by spraying in order to eliminate impurities present on most manufactured parts (oils, greases, oxides and other organic or inorganic impurities).
How to choose
Shape, size and number of parts will determine choice of washing machine, which is also influenced by the parts conveyance system.