How to choose this product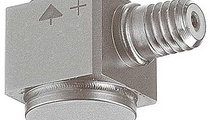 Accelerometers are devices which are used to measure the linear acceleration of an object. They also can be used to measure and detect vibration and inclination.
Applications
Accelerometers are used in industry to measure the vibration on vehicles, machines, and buildings.

Other applications include:
- measuring seismic activity
- inclination for aircraft instrumentation
- hospital bed angle gauges
- inclination indicators on sail boats
- safety airbag release in automobiles
Technologies
There are several different types of accelerometers found in industry today. They vary by sensor type, which can be:
- capacitive
- piezoelectric
- piezoresistive
- Hall effect
- magnetoresistive
How to choose
When selecting an accelerometer, be sure to specify whether you would like analog or digital outputs. This will depend on the type of hardware used to communicate with the accelerometer.

Other specifications include the number of movement axes and the required accelerometer sensitivity.