How to choose this product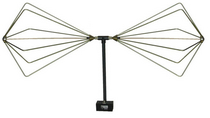 An antenna transmits or receives electromagnetic waves. One of its most common uses is radio-frequency communications, which necessitates its connection to a transceiver by a cable of suitable impedance.
Applications
There are many different kinds of antenna. Biconical antennas are used in spread spectrum techniques, which yield very high data transfer rates. They also are found in measurement and positioning applications. Bluetooth®, WiFi and GSM antennas are used in wireless communication networks. Satellite communications require a parabolic antenna with a low-noise block (LNB) receiver. RFID uses a loop antenna with narrow bandwidth to follow the movements of an object via its identification tag.
Technologies
An antenna behaves like a resonant circuit. Its dimensions are fractions of the central frequency's wavelength. Bandwidth is determined by antenna geometry and associated elements. Antennas are polarized, requiring both directional and rotational positioning. Each antenna is characterized by directivity and gain, described in a radiation diagram. A directional antenna has one or two very distinct radiation lobes, while isotropic radiators are omnidirectional.
How to choose
Choice will depend on the directivity and gain of the antenna as described by its radiation diagram. Bandwidth and central frequency are determined by the antenna's specific use.