How to choose this product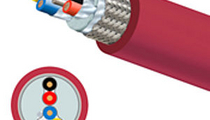 A data transmission cable transmits analog and digital signals between two entities (sensors, computers, etc.). Since the appearance of fiber optics, a distinction is made between electrical data transmission cables and optical data transmission cables.
Applications
These cables must transmit data between an emitting unit and a receiving unit with minimal data loss. The data can be made of analog signals, but is more often, in the digital era, a series of 0 and 1 signals, less sensitive to electromagnetic disturbances.
Technologies
To limit data loss, electrical data transmission cables are built with features (twisted pair, coaxial cable, etc.) that limit interferences from the outside environment and electrical disturbances. Optical data transmission cables are insensitive to electromagnetic disturbances, which makes them preferable for long transmission.
How to choose
Choice of a data transmission cable depends on the type of data to be transmitted. For an analog signal, coaxial cables are efficient for short distances. To transmit digital data over average distances, twisted pairs (such as an Ethernet cable) can be used. For longer distances (several kilometers), optical data transmission cables are preferable.
Advantages
- Interference limitation
- Bandwidth