How to choose this product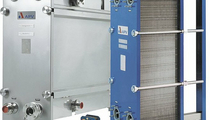 A heat exchanger transfers the heat stored by a fluid to another fluid, without mixing them. The exchange is driven by the temperature difference, the heat passing through the material separating the fluids.
Applications
Exchangers are used in numerous processes and different pieces of equipment to heat or cool a fluid.
Technologies
These devices differ in the geometry of the exchange surface. The best-known types are:

- Plate heat exchangers are composed of many stacked plates, separated by just a few millimeters, in which the fluids circulate.
- Shell and tube heat exchangers consist of bundled within a cylinder (the shell). One fluid circulates inside the tubes, the second between the shell and the tubes.
- Spiral heat exchangers comprise two plates coiled around each other, forming a pair of spiral channels.
How to choose
Choice of exchanger size and configuration involves many parameters, including the fluids' physical properties and temperatures, the flow rate and the energy to be exchanged.