How to choose this product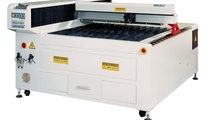 Laser cutting is a procedure for rapid, precise cutting of sheet metal, metal pipe or sheets of other materials. This non-contact method puts no strain on the workpiece, which is in no way deformed.
Applications
These machines are used for sheet metal work in the automobile industry and boiler making for cutting sheets of steel, aluminum alloy, stainless steel and brass. They also can cut rubber, polyester, Plexiglas, composite materials, cardboard, wood or leather in saddlery.
Technologies
Laser cutting is done with the aid of a gas, nitrogen, argon, oxygen or air. The material removed is in part vaporized or sublimated, in part expelled by the gas jet.

Continuous CO2 laser cutting is rapid and can be used on numerous materials, making it the most common method. The power of the beam is adjusted as a function of the material for cutting thicknesses up to 25 millimeters and for making holes.

A different cutting technique, such as water jet or continuous YAG laser, is used for highly reflective materials such as copper and silver. A pulsed YAG laser is favored over a CO2 model for very precise cutting.

These programmable machines often are employed for engraving, marking and edge welding. They can be equipped with an automatic workpiece loading and unloading robot.
How to choose
Choice will depend on maximum workpiece size and laser power, which can reach 7 kW.
Advantages
- Precision cutting
- Non-contact operation
- Multiple capabilities