How to choose this product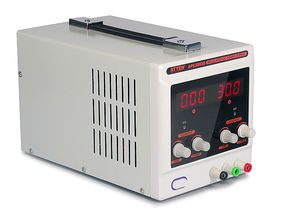 A power supply is an autonomous system or subsystem that furnishes the electrical energy required for a device's functioning.

The main energy source is usually provided by an electric power network (direct, alternating, single-phase or three-phase). A power supply converts this energy into a form immediately usable by the device.
Applications
Power supplies are adapted to given uses (stabilized voltage, stabilized current, precision, etc.).
Technologies
Power supplies fall into two main categories: linear and switch-mode. They also can be classified by output current: alternating (AC) or direct (DC).

A power supply can be considered to be a system that transforms input electrical energy (often the power grid) to output electrical energy (fed to the device or machine). The four types of conversions are: AC/AC, AC/DC, DC/DC and DC/AC.
How to choose
Choice of a power supply depends on the type of output energy required by the device or machine. Another factor is the type of primary electrical energy input (power grid, batteries, alternator, photovoltaic, etc.). Finally, one must choose the desired technology: linear (using transformers and conventional components) or switch-mode (modern and more compact).