How to choose this product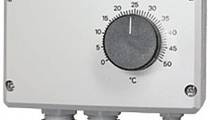 A temperature controller detects the temperature of a given environment and regulates it to match a predetermined value.
Applications
These devices are widely used in industry wherever temperature control is critical.
Technologies
When the temperature rises above or falls below a predetermined level, the controller adjusts it, either manually or automatically, to match the desired value for the system.
How to choose
Choice of controller will depend on the characteristics of the system to be controlled: temperature range, diameter of system elements, environment, etc.
Advantages
- Control
- Safety