How to choose this product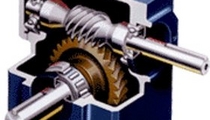 A worm gear reducer (worm and wheel) is a reducing mechanism using a wheel gear and a worm to achieve reduction. The input and output axes are orthogonal.
Applications
Applications can be found in numerous industrial domains, often in the form of drive units. Common uses include conveyors, lifts and elevators. Irreversibility is often the key characteristic for security purposes.
Technologies
This mechanism allows significant rotational speed reduction (up to a factor of 100) and is suitable for the transmission of high rotational torque. Moreover, in the case of great reduction (in practice, over 20 or 25, when the helical profile of the worm is small) the system is irreversible with small energy transmission values.
How to choose
Important criteria include the entry and exit rotational speeds and input and output torque. These data allow calculation of the reduction ratio. The relative orientation of the input and output axes must also be determined (coaxial, parallel, perpendicular, convergent or not).
Advantages
- Significant reduction potential
- Irreversibility for security