How to choose this product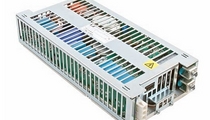 An AC/DC power supply is an autonomous system or subsystem that provides the direct current (DC) necessary to power a particular device.

The primary energy source is alternating current (AC) provided by an electric power network (single-phase or three-phase). The power supply rectifies this energy to render it directly usable by the device. AC/DC converters are also known as rectifiers.
Applications
These power supplies are very widely used. The linear type is common in applications requiring great precision and stability in the face of input voltage and load variations. It is used in labs for equipment testing. For other applications, switched-mode power supplies are used.
Technologies
The linear type uses a large main transformer, capacitors, resistors and diodes. The switched-mode can use a smaller transformer. A simple inductance is sufficient, because most of the rectifying is done through electronics that chop the high-frequency input current before filtering it to produce direct current output.
How to choose
Choice of an AC/DC power supply depends on the desired output power. Switched-mode (modern and compact) or linear (stable and precise), selection depends on the desired application.