How to choose this product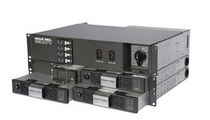 A DC/AC power supply is an autonomous system or subsystem that puts out the alternating current (AC) necessary to the functioning of a particular device. The primary energy source is direct current (DC) from batteries or photovoltaic panels. DC/AC converters are also known as a inverters.
Applications
Applications for such power supplies are numerous in the railway, military, aeronautic, medical, automobile, computer, industrial, data storage, telecommunication, networking and instrumentation fields.

These converters provide the alternating current required for the operation of certain devices normally in the absence of a connection to the electric power grid. Batteries are usually used as the primary energy source. DC/AC power supplies are also used to assure continued operation during power failures.
Technologies
DC/AC power supplies (inverters) are electronic systems using non-linear commutation components (IGBT, thyristors, power transistors) to generate a periodic pulsed current that generates an alternating signal at the desired frequency from direct current. Specific current parameters differ with application.
How to choose
Choice of a DC/AC power supply depends, above all, on the application requiring the inverter (which determines current and voltage frequency). The desired output power will also be an important criterion.