How to choose this product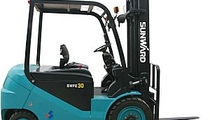 The electric forklift truck is mainly for indoor use in manufacturing and warehousing. It is powered by a heavy-duty battery which can hold its charge for about eight hours. The truck has of front forks mounted on a hydraulic mast capable of vertical and horizontal movement. It rides on three or four wheels.
Applications
Electric forklifts are mainly used for interior applications such as in warehouses and manufacturing plants.
Technologies
These forklifts are powered by electric engines at the rear of the truck to help counterbalance the loads. The battery charge generally lasts eight hours and has a recharge time of 16 hours.
Advantages
- Low noise
- Low emissions
Disadvantages
- Reduced performance in exterior settings