How to choose this product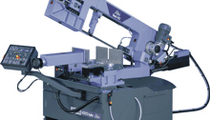 The blade of a horizontal band saw rides on two wheels. The head pivots or moves up and down.
Applications
A horizontal band saw is usually used for cross-cutting. It is capable of handling both large and small pieces.
Technologies
The horizontal band saw may be either of the pivot or vertical-movement type. Some are capable of oblique, or miter cuts.
How to choose
Cross-section and hardness of material to be cut will determine choice of saw.
Disadvantages
- Maximum cross-section constraints