How to choose this product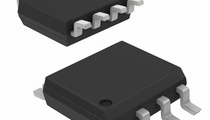 An integrated circuit is an electronic component consisting of a chip in a small package with external leads. The connectors allow the component to be added to a printed circuit.
Applications
These devices add specialized functions to electronic cards in a compact form.
Technologies
Integrated circuits contain a group of basic semiconductor components printed on a chip, which is protected by its package. DIL and QFP housings have embedded leads, while in CMS types the connectors are soldered to the surface. BGA packaging is covered with a connection grid in the form of beads of solder. Packages may be of molded plastic or ceramic, each with particular heat dissipation properties.

The most common integrated circuits have predefined functions: logic, memory, processor, op-amp, etc. ASIC circuits can be customized. Programmable FPGA (PAL, PLD) and pre-diffused types consist of a matrix of programmable logic blocks and are structurally configurable. The full-custom and pre-characterized ASIC models can be defined by the silicon photo-lithography masks.

System-on-chip designates an integrated circuit containing a variety of components in addition to semiconductors, such as micro-electro mechanical systems (MEMS), optoelectronic, chemical or biological devices and radio circuitry, in the case of sensors.
How to choose
Choice will depend on circuit function, specific characteristics and power source.
Advantages
- Integration of complex functions