How to choose this product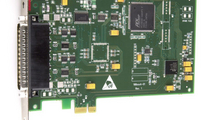 A PCI Express interface card is a PC extension card. The bus differs from the PCI norm, enabling a much higher data transfer rate. Connectors are also different.
Applications
These cards fill the same roles as PCI cards, but with improved performance. They are used for communications, networking and multimedia, and are progressively replacing AGP bus video cards.
Technologies
The PCI Express bus differs from the PCI bus in its position within the motherboard architecture and the fact that it operates in series rather than in parallel. It also has greater bandwidth.
How to choose
Choice will depend on the speed requirements of the application and the installation possibilities in the host computer. PCI Express buses come in various versions, from 1X to 32X, with speeds ranging from 250 Mbps to 8 Gbps. Each uses connectors of a specific size.
Advantages
- Enhanced performance