How to choose this product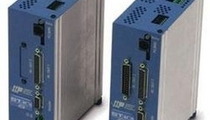 A stepper motor driver is an electronic component for exciting the motor's coils. It controls different aspects of motor function, especially rotor position.
Applications
These devices are used in industry to control actuators such as on valves or in robotics to control articulated arms or automated equipment.
Technologies
Stepper motors are multi-polar motors which can be controlled by current introduced into the stator coils, the function of the driver. The number of possible positions is determined primarily by the number of motor poles. Motors can be unipolar or bipolar.

The driver can also control motor speed, direction of rotation and torque. Position control can be as precise as several thousandths of a step per revolution. The driver can be piloted by a field bus or a serial connection. The motor/driver unit constitutes a servomotor.
How to choose
The driver will be chosen as a function of the type of motor to be controlled. Factors include unipolar or bipolar motor, available amperage, control voltage, power and position precision.