How to choose this product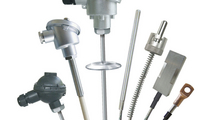 Temperature probes are temperature-measuring transducers. Most are platinum probes or thermocouple units.
Applications
These devices are used for process-control in the petrochemical, gas, energy, cement, waste incinerator, automobile and HVAC industries.
Technologies
Platinum probes are resistance thermometers. Their resistivity increases almost proportionally to temperature increase. Precision is indicated by class (A, B, 1/3 DIN or 1/10 DIN). Pt100 probes have 100-ohm electrical resistance at 0° C. Class B Pt100 models have a ±0.3° C precision at 0° C (half as much as class A units), and are used for temperatures under 500° C. They have relatively slow response times and can be quite cumbersome. They are equipped with two, three or four wires.

Thermocouple units use the Seebeck effect, and are composed of two different metals in contact at the hot junction, where an electromotive force is generated. Its value depends on the temperature and the metal types. Such probes are described as type K, J, T or N, depending on the nature of the metals and the measurable temperature range. The hot junction is compensated by a reference cold junction, and requires the use of extension or compensation cables.

Non-contact pyrometric probes can be used to measure temperatures over 1500 degrees Celsius.
How to choose
Consider maximum and minimum temperatures to be measured, operational environment and available installation space. Thermocouple units are less costly, but less precise than platinum models.