How to choose this product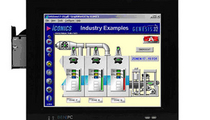 A touchscreen panel PC is a computer often used as a human-machine interface in an industrial facility. The operator can monitor processes, modify the display or control operations by touching the screen.
Applications
These devices are found in process management and production in the engineering, chemical and petrochemical sectors, on all types of automated installations, automobile assembly lines and in the food industry. They are also used on bank automatic teller machines, in medical imaging, in hotels and by the military.
Technologies
Industrial touchscreens are reinforced to withstand dust, humidity, splashing (IP65 rating), excess temperatures and vibrations. The tactile surface uses resistive, capacitive, infrared or surface acoustic wave (SAW) technology. It allows the operator to control actuation devices or modify the operating parameters of the installation being monitored.

The panel is equipped with all the necessary ports for data exchange and networking. These include, Ethernet, WiFi, USB, serial RS232 or RS485 ports, CANbus or PROFIBUS fieldbus ports, power line communications (PLC) and any option normally available on a computer. Some have no fan. They can be adjusted for maximum luminosity to facilitate use in bright light.