... Highly flexible for various part types Fast work part change-over Greater rigidity: no slide motion during milling = improved work piece quality Reduced downtime with pivoting heads vs. slides = ...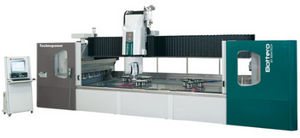 CNC milling machine
Technopower
Numerically controlled machining centre specifically designed for processing marble slabs, equipped with automatic tool changer.

CNC milling machine
max. 40 m/min | MicroMill
... axis CNC vertical milling machine for sheet machining developed by Microstep Group. It is specifically designed to cater applications that include 3D CNC milling of ...

3-axis milling machine
Model 160
... Model 160 is a milling machine manufactured by Erichsen. It has a voltage rating of 230V AC at a frequency rate of 50 Hz. The machine requires a power rate of 0.5 kW. The machine ...